Welcome to Las Casas Filipinas de Acuzar
Las Casas Filipinas de Acuzar is a Spanish words meaning 'The Philippine houses of Acuzar'. You might ask who is this Acuzar? Well, he is the owner of these Spanish mansions. His name is José "Gerry" Acuzar, owner of the New San Jose Builders who started to rebuild Spanish mansions in Bagac Bataan in 2003.
So how this genius idea started? First of all, it started when they chose Philippine houses based on its historical, cultural and architectural value. They carefully replicated these houses in Las Casas to resemble it to the original structure. Meaning, the whole concept of this heritage park resort is to showcase the collection of 'replica' heritage houses in Bagac Bataan that you will find on different parts of the Philippines. Though this is not originally a heritage place but a heritage 'inspired' place instead, visiting this place will give you a nostalgic feeling same as in Vigan City and Intramuros.
In 2010, the heritage park was opened to public. Spread over 400 hectares, the park features a collection of 27 Spanish Colonial buildings. The resort has a restaurant, a beach, calesa rides and a swimming pool. It plans to have 50 such heritage houses.
How to get there?
We drive from Quezon City to Bagac Bataan for about 3 hours. You can use Waze for proper directions.

Where to Stay?
As far as I know, it cost 7,500 pesos per night for you to stay on any hotel in Las Casas Filipinas de Acuzar. Few meters from the entrance of the resort, you will see the row of hotel buildings. Each building has elegant and classic designs on it.
The Beach
You will conveniently find the beach along Bagac Bay. The sand is not white and refined same as what is on Laiya Batangas and Saud Beach Pagudpud. But despite of those things, you will still enjoy swimming here because of its great view and cool breeze. If you plan to swim, please don't bring foods or drinks on the beach area since resort staffs are carefully maintaining the cleanliness of the beach.
The Swimming Pool
If swimming on the beach doesn't make you feel comfortable, don't worry because there is another option. You can swim on the old design swimming pool while enjoying the full view of the beach. What you will surely love about this swimming pool is it is not the modern or typical pools that you might know. It has some big rocks at each corner of the pool and some chopped woods for the floor behind. Perfectly an 'Onsen' inspired swimming pool, which is a natural hot spring is Japan.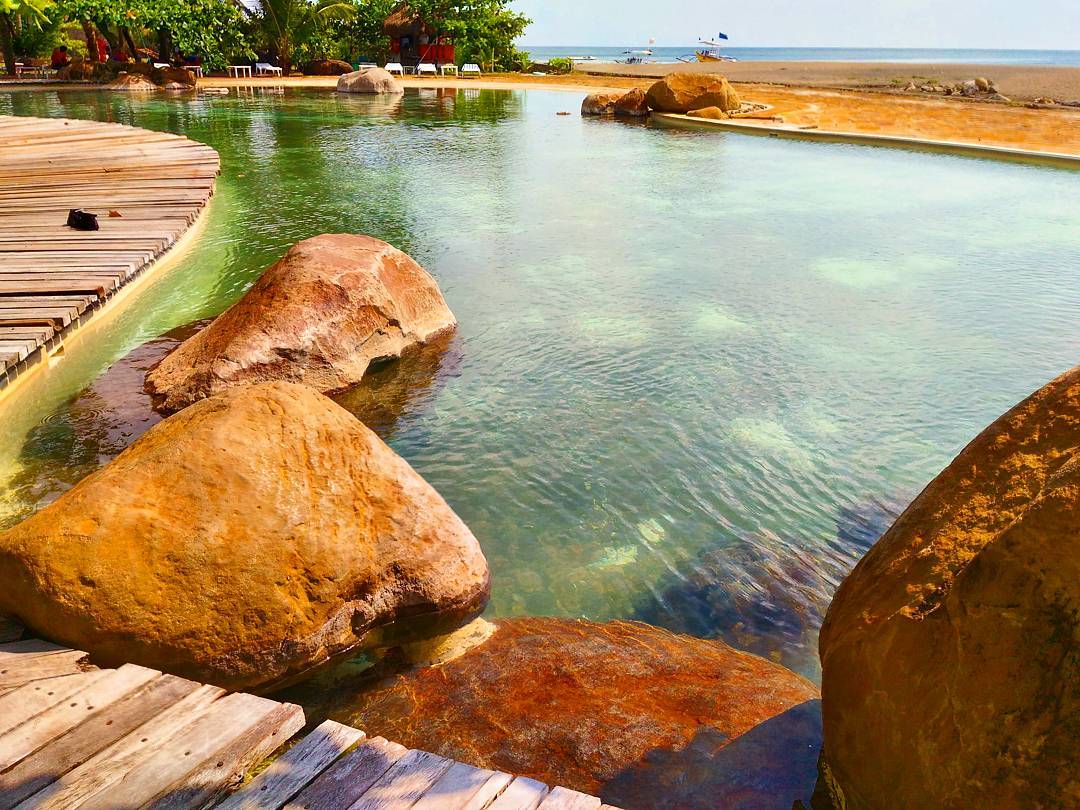 Trains and Calesa
Las Casas has train and calesa on the vicinity of the resort. It serves as a free shuttle on the resort aside from the jeepney. But walking is much better because you will got a chance to check the whole place. And besides, it is an exercise.
The Casas
Visiting the Las Casas Filipinas de Acuzar will not be completed if you didn't visit or check the 'Casa' or the heritage houses. These are the few casas that I got a chance to take a picture.
1. Casa LaDrino
Casa LaDrino is one of the most eye catching houses that you will see in the heritage resort. It has this red brick exterior with a design that is seems like from foreign countries. It is not part of the heritage tour though but served as one of the resort's hotel.
2. Casa Hagonoy
The Casa Hagonoy is one of the first houses that you will be allowed to enter during the heritage tour. It is a wooden house with a very relaxing balcony. All the visitors, same as the rules applied in every casa, are required to take off their shoes, a Filipino tradition which is done as a sign of respect to the house owner.
3. Sanctuario De San Jose
A perfect venue for wedding or prenup shoot! While this church is still under construction inside, it is interesting to note that they are slowly and intricately bringing the iconic replica of Santuario De San Jose back to its former glory.
4. Casa Binondo Manila
5. Casa Meycauan Bulacan
6. Hotel 1882 – 1991
Hotel 1882 – 1991 is another hotel on heritage park that is just few meters walk from the entrance.
7. Hotel de Oriente
Hotel De Oriente is based on the original Hotel de Oriente in Binondo. It is the first premier hotel in the country and the second building in the Philippines to have a telephone. Consequently, the replica in Las Casas was built in 2013 and was finished in time for the Bataan leg of the Asia-Pacific Economic Cooperation Summit last year. It has two large halls that can accommodate 1,000 persons and four function rooms named after locales of Old Manila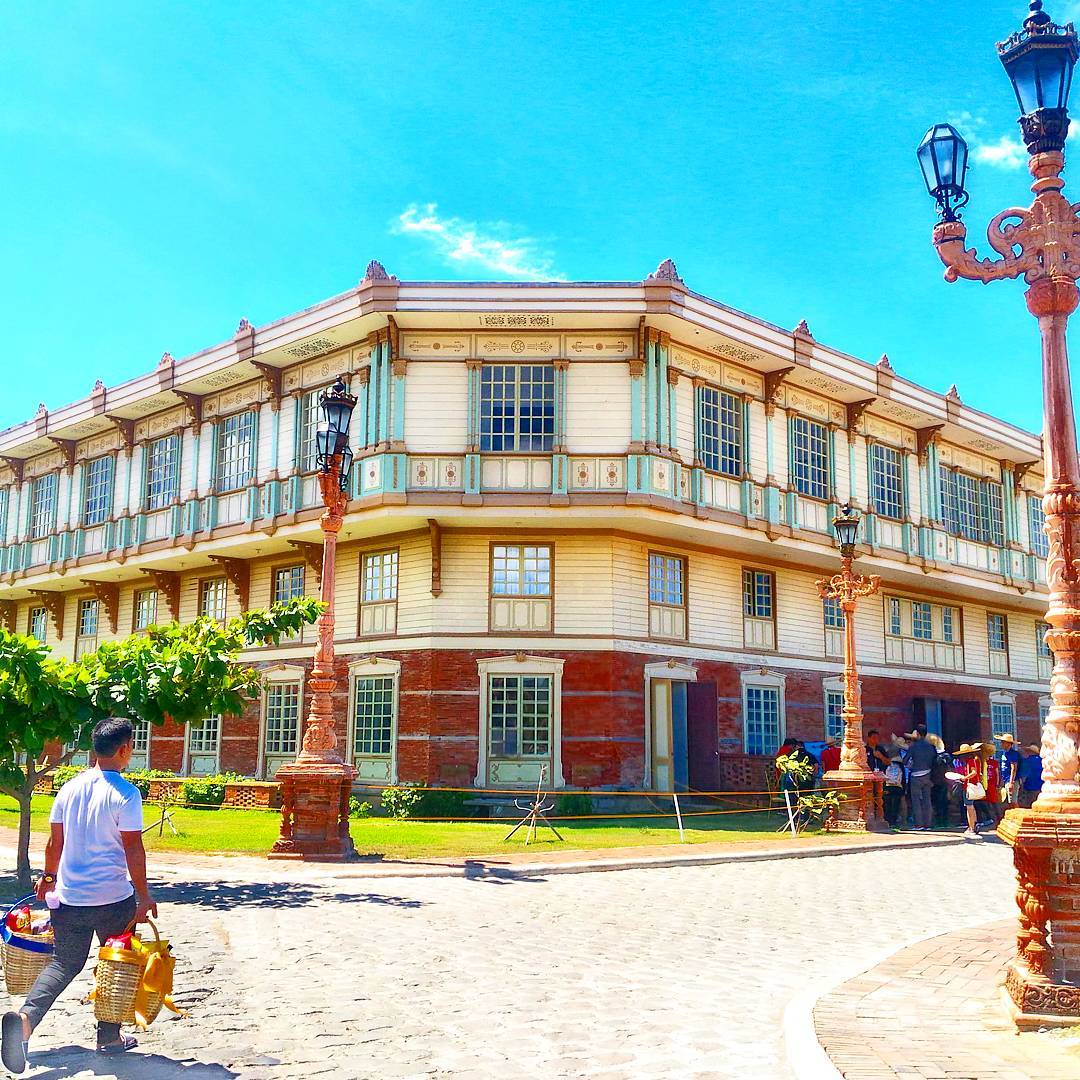 Picture perfect sculptures
Feel free to left a comment if you want to share something about my travel adventure on Las Casas Filipinas de Acuzar.