Welcome To Central Market
When travelling, shopping will never be out of the list. And if you are in Kuala Lumpur and looking for a great place for shopping unique items that shows Malaysian culture and heritage, Central Market is the perfect place for you.
Central Market Kuala Lumpur is at Jalan Tun Tan Cheng Lock (Foch Avenue) and the pedestrian-only section of Jalan Hang Kasturi (Rodger Street), a few minutes away from Petaling Street. In fact, it is just a walking distance from Jalan Petaling so no need to take a teksi (Malaysian taxi cab) to go there.
For a bit history of the market, It was founded in 1888 and originally used as a wet market until the current building was completed in 1937. It has since been classified as a Heritage Site by the Malaysian Heritage Society and it is now a landmark for Malaysian culture and heritage.
KL Central Market Details
The Central Market Kuala Lumpur is arranged in a stall concept, in which different kiosks will be found inside. It represents the traditional market that has existed in Kuala Lumpur since the 1800s. Travelers can scroll through the many sections that exists within the Central Market, from the Lorong Melayu, Straits Chinese, and Lorong India which is located on the west wing. The second floor hosts a food court, offering an array of food. Notable are two-storey and single-storey buildings resembling the kampong-style houses representing the many ethnic groups living harmoniously in Kuala Lumpur. Therefore, you will find variety of shops selling unique items inside. Aside from that, you will also find the famous Malaysian coffee shop name Old Town Coffee that is perfect for chilling out.
One thing that caught my attention is this vintage rickshaw. It is a traditional transportation vehicle that Malay people use during ancient times. It was display here for tourist attraction.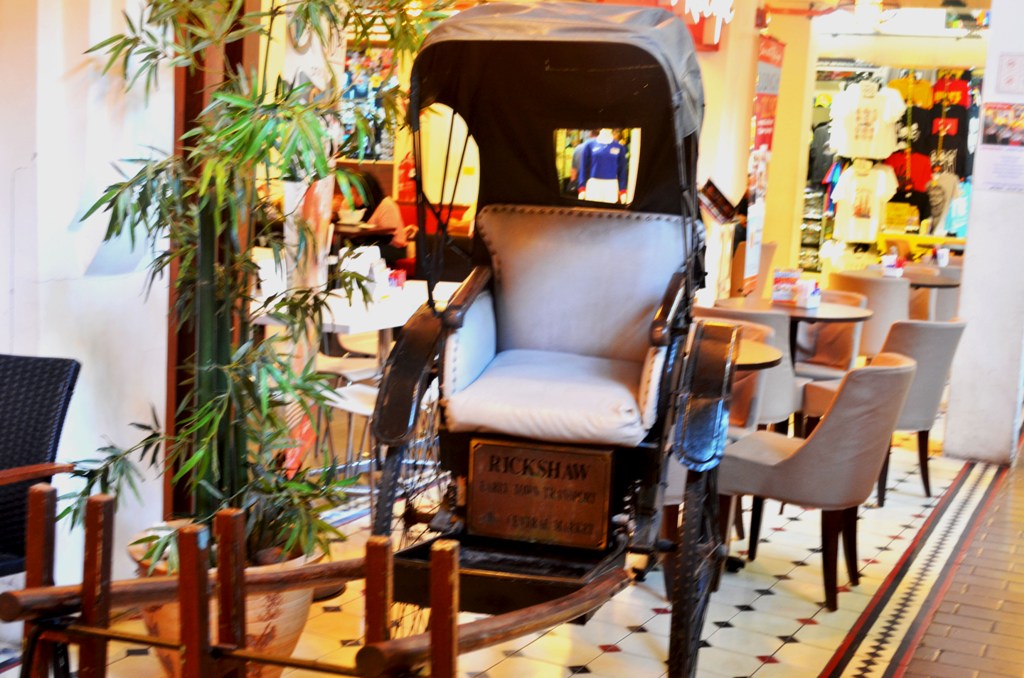 You will find several great stuffs inside the central market that is perfect for souvenirs. Shirts with printed I <3 KL are available and has different colors and sizes.
Aside from that, you will also find some hand made blow glass pendants. The shimmering color of the glass and flowers inside are really mesmerizing. In fact, I want to buy one but when I found out it cost 25 RM each, I find it expensive and refuse to buy. The seller actually did a short demo by mashing the precious blow glass on the wall and didn't have any damage at all. Unlike any other blow glass, this kind of blow glass is more refined and sturdy.
Different flowers are inside the blow glass as you check it closer.
Fish Foot Spa
Great thing to do on Central Market aside from shopping is to try this fish foot spa. It cost 10 RM each for every 15 minutes. It's actually a great experience to try a foot spa on a tub full of fishes that biting my toes. It's tickling and terrifying at first. But few minutes after, it became relaxing because those fishes are removing the dead skin on my toes by scrubbing it.
Perfect Souvenirs
Keychains as souvenir is so overrated. In every places that I travel, keychains or magnets with a design of a place you visit are everywhere. But we can't blame tourist to buy these cute and charming items. For the reason that it is cheaper than any other souvenirs plus a memory of the wonderful place you travel will last for a long time. Good thing that 10 pieces of keychains on each bundle cost 7 RM only. I actually both 2 bundles for my family and friends and it's worth it.